Meet Kris Hanahan | Meet Amanda Burgess | Submit a Testimonial 


Kris Hanahan, REALTOR
Cell: 814-360-3557 | [email protected]
When thinking about how to sum myself up one thing continues to come to mind; people are my life! From the relationships I have with my family and loved ones to the relationships I nurture with clients, who become friends, I greet every day with the simple goal to give others the best of me! 
I spent my childhood in Utica, NY surrounded by a large extended family. With most of my relatives within a few blocks I learned early the beauty of community. In 1987, after college at RTI (Rochester Institute of Technology), where I earned my bachelor's degree in Computer Science, I followed a professional opportunity that led me to State College. I fell in love with the small town feel and all of the opportunities awarded by the University. I met my husband, Tracy, while we were both working as software engineers. During our three kiddos' younger years, I stayed home and made them my focus, volunteering throughout the community with kids' sports, booster clubs for cross country and volleyball, thespians, Special Olympics, Girl Scouts, Children's Miracle Network, and others. Tray and I have been married for over 30 years now and with all the kids out of the house and onto their own adventures we are adjusting to the rhythm of an empty nest for the first time! In my free time I enjoy hiking, cooking, theatre, and reading. 
In 2004 a dear friend and mentor suggested that I "give real estate a try" as a buyer agent on his team. I was licensed that year and have never looked back! This career gives me the ability to focus on the transitional times in people's lives, a place where my caring and expertise allows me to make a real difference. There is so much going on behind the paperwork and I take great care in educating my clients about the process to enable collaborative and informed decision making. My high standards in excellence and in integrity, strengths in market knowledge and negotiating, and relationships I have formed with other agents and industry partners all contribute to the quality of service my clients experience throughout the process of buying and selling. After over 17 years in the business, I have a referral-based business built. I love my people and their trust in me grants me the joy of assisting their friends, family, and colleagues. These relationships are the cornerstone of my business and are what makes each day so fulfilling. Professionally, I have served as President of CCAR in 2014, spent three years on the CCAR Board of Directors, PAR Board and statewide committees including over 10 years on the Professional Standards Committee, helping to keep the industry moving forward in productive and positive directions. 
---

Amanda Way Burgess, REALTOR
Cell: 814-880-6773 | [email protected]
Amanda Burgess has a client-centered approach in assisting with transactions for buying, selling, and investing in residential real estate. Her greatest honor is serving family, friends, and community members with the management of their real estate portfolio. 
Amanda started her career as a Certified Nurse Midwife in 2012 where she practiced in Philadelphia for 10 years. She previously worked within the Department of Family Medicine and Community Health at Penn Medicine, where she taught as a Clinical instructor for Family Medicine Residents and the University of Pennsylvania Midwifery students. After relocating to State College with her family, Amanda decided to pursue her passion for real estate.  Amanda's experience in Health Care has given her a unique perspective into the Real Estate profession through her knowledge base and commitment to providing a personalized experience for clients that is grounded in data. With both of her careers she has had the privilege of helping people during major life events. With bachelor's degrees from Penn State University and Villanova University and a master's degree from University of Pennsylvania, Amanda has a wide-range field of study. She lives in State College, PA with her Husband and 3-year-old son.
"Your home should tell the story of who you are and be a collection of what you love" ~ Nate Berkus
Promise to Clients
Relationships and hard work are the cornerstone of my practice.
As a mom, I truly understand the value of time. By using our comprehensive and efficient systems we ensure each real estate transaction is as seamless as possible.
Staging and our social media marketing allow sellers to yield the highest possible net profit on their home. We use market data to help support buyers and sellers to make informed choices on their largest investments.
I would love the opportunity to set up a time to talk about your real estate goals – whether it's looking for a primary residence, investment home or vacation home! Let me use my passion for homes to help you buy or sell yours.
Education
University of Pennsylvania, Master of Science in Nursing
Villanova University, Bachelor of Science in Nursing, Accelerated Program
The Pennsylvania State University, Bachelor of Science in Biology
Pending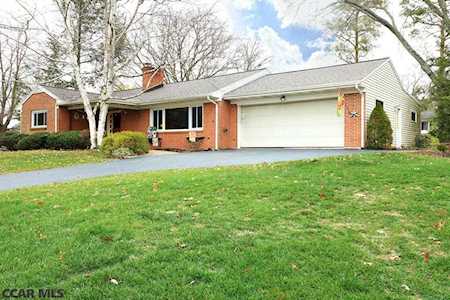 1220 Charles Street
State College, PA 16801