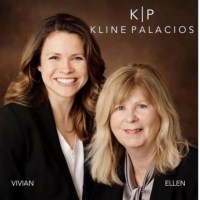 Ellen Kline and Vivian Palacios are a team of two experienced Realtors, both with a unique outlook on the industry.


Together — with decades of experience in every kind of economic up and down — they know how to respond quickly and problem solve to enable you to reach your real estate goals.


ELLEN KLINE


"Despite all the technological advances of the 21st Century, real estate sales still need the human perspective," said Ellen.


She believes a full-time Realtor can best provide that perspective and more.


"A Realtor must have excellent...