KBB REALTORS: Ellen Kline & Vivian Palacios
Posted by Liz Piazza on Friday, March 20, 2020 at 12:37 PM
By Liz Piazza / March 20, 2020
Comment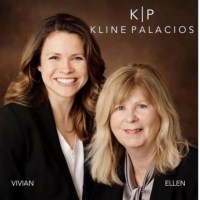 Together — with decades of experience in every kind of economic up and down — they know how to respond quickly and problem solve to enable you to reach your real estate goals.


ELLEN KLINE


"Despite all the technological advances of the 21st Century, real estate sales still need the human perspective," said Ellen.


She believes a full-time Realtor can best provide that perspective and more.


"A Realtor must have excellent problem-solving skills, a network of tradespeople and in-depth local market knowledge to be successful," she said.


Additional skills help too, like knowing how to interact with other Realtors and industry players, and how to be pro-active and detail-oriented in general.


After 27 years in the local field, it's not surprising that much of her business is largely based on referrals from current and past clients. She feels confident in her knowledge of the market and the regulations specific to this area, and her repeat clients are a testament to that.


Prior to working in real estate, Ellen was in the hotel industry. Managing upward of 300 employees and managers in her position with Mariott Hotels, she oversaw everything from room reservations to airport transportation. She eventually joined the start-up team of Fairfield Inns as Director of Room Operations, which included
developing operating procedures, equipment evaluation and purchase, site visits and oversight of the turnover of new construction to the operating team. She credits her work in this industry with laying a solid foundation for her transition to real estate.


Having moved to
State College
in 1993, real estate became her primary focus.
"I've bought and sold many properties in the last 36 years, and understand firsthand the stress and challenge of moving,
" she said.


In fact, her last move was just in 2020!


"Never again!" she said, "But we'll see what the next few years bring!
"


Ellen works with residential, commercial, multi-unit investment, land sales and new construction. She has owned and managed commercial properties and was previously a co-owner of a real estate brokerage. Her
expertise is in understanding the contracts used in Pennsylvania, negotiating, understanding ever-changing market conditions, and financing.


VIVIAN PALACIOS


Vivian, who
'
s also logged many years of experience in the field, approaches her work in a unique way: she sees herself as a real estate consultant, not a salesperson.


"Your values and needs are my number one priority," she said.


Throughout your transaction, she promises to be engaged and committed to providing the best council possible.
Her strong focus on communication, acute market knowledge and strong negotiation skills come together to help deliver you to your goals.


"Honesty is key," said Vivian, who aims to provide well-informed advice no matter the circumstance. And with over 10 years of experience in the local market, she's able to carefully navigate her clients through the process.


Additionally, she's bought and sold properties herself, so she understands the first-hand challenges and stresses that her clients face.


"One of my primary goals is to make your real estate transaction as stress-free as possible for you," she said.


Vivian is a 2007 graduate of
Penn State University
, where she obtained two Bachelor's degrees; one in economics, the other in marketing. She minored in russian translation.
She's proud to be a product of the
State College Area School District
and has been a State College resident since 1998. She's fluent in both Spanish and Russian and enjoys spending time with her husband and three young boys, being active outdoors, and cooking.