KBB REALTORS: The Calandra Witmer & Faussette Team
Posted by Liz Piazza on Wednesday, June 10, 2020 at 12:58 PM
By Liz Piazza / June 10, 2020
Comment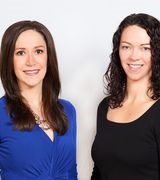 KBB REALTORS: The Calandra Witmer & Faussette Team
Erin Calandra Witmer and Lindsey Faussette are a team of Realtors ® aiming to make your real estate transactions easier for you.
Working together, they can tackle a wide range of issues, and perhaps most importantly, can assure crystal-clear communication through promptly returned phone calls and emails.
"We're here to help at any time," said the duo, who are excited to help not only first-time buyers, but those with more experience buying and selling property.
"We can help no matter your experience level," they said. "Even if you're just beginning your home search, we welcome you to reach out with any questions you have."
ABOUT ERIN & LINDSEY
While you may recognize Erin from her years spent as a local news reporter and weather anchor, she now helps current and future community members find their perfect home.
"I love real estate," Erin said. "Those four words 'You got the house' never, ever get old!"
Erin graduated from Penn State and currently lives in Boalsburg with her husband and daughter.
In addition to volunteering with her daughter's sports teams, she likes spending her time at the beach, camping, exploring, and enjoying all of the great events that happen in Happy Valley throughout the year.
Lindsey is also a longtime Boalsburg resident, having graduated from both State High and Penn State before beginning a career with the university at WPSU.
Eventually, she began a job at a local non-profit before moving into the real estate field.
"Helping people has always been a consistent thread in my life," she said, and she's still able to do that through her involvement in various non-profits in the area.
Fortunately, that desire to help also comes in handy in the real estate field, where she finds contentment in helping others find their dream property.
Lindsey enjoys spending time with her family and friends – including her son and daughter – and traveling, listening to music, and being outdoors. She loves reading, treasure hunting, and staying active at the gym and with yoga.