Local Housing Trends: Renting vs. Buying
Posted by Liz Piazza on Wednesday, January 15, 2020 at 11:32 AM
By Liz Piazza / January 15, 2020
Comment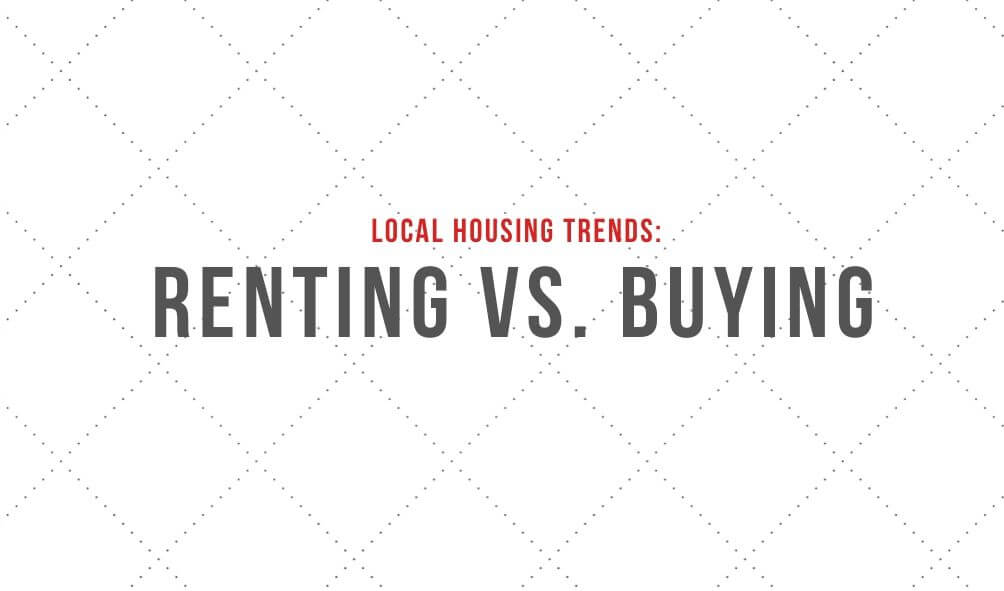 At some point, you're going to ask yourself: Should I buy instead of rent?
It's a complex question that includes a variety of factors. Buying is a smart choice for many, but not always the best deal, depending on the market you live in and other factors like how long you plan to live there, the size of the home you plan to purchase, and more.
Consider the following points before you decide to buy:
It's a big investment. You'll have to put down a substantial amount of money for your down payment (generally three to 20 percent) and closing costs (which can cost up to three percent of the home's purchase price).
Can you get approved? Your debt-to-income ration is important for lenders to see how your debts stack up against your pay. Traditionally, lenders use the 28/36 rule, which states your housing-related payments (mortgage, taxes and insurance) shouldn't exceed 36 percent of your monthly pretax income.
It's more expensive than just your mortgage payment. Comparing your mortgage payment to your rent just isn't accurate – consider homeowner expenses (renovations, maintenance, utilities), property taxes, insurance, HOA fees, mortgage insurance and more.
Decrease in mobility. Are you job secure? In today's market, few people can say they'll have the same employer in five years. A year-long lease is much more convenient and less expensive than selling a home.
A HOME AS AN INVESTMENT
It's hard to say whether home prices will rise or fall during the period of your mortgage – especially if you don't plan on staying to pay off the mortgage -- so don't expect your home to be a cash cow. However, for those looking to stay in their home long enough to pay off their mortgage entirely, it can make sense to put your mortgage payment toward equity in your property instead of giving it to a landlord.
So is buying a house a good investment? Home values generally increase over time but consider factors like how much you're paying to the bank in interest over the course of the mortgage. Once you add in taxes, insurance, maintenance and repairs, you may find that your housing costs are operating more as a forced savings account: when you sell your house, you're just getting back what you put in – don't consider it a money-making investment.
If you plan to buy a home as an investment, a rental property could turn a profit because you're not the one making the payments. Assuming the home has a good cash flow, your tenant is paying the cost of what it takes to own the home. By leveraging a tenant's time and money, your home becomes an asset.
A PLACE TO LIVE
It may be best to consider your home a place to live with a few perks, rather than an investment. Consider, for example, that buying a house builds equity, and that many homeowners are immune to rising rents if they have a fixed-rate mortgage.
Buying a home has become a part of the American Dream, but is a complicated process. Whether you're considering buying or renting, we can help.
Our REALTORS® have been working in this market for decades, meaning you'll have experience on your side. It's never too late to start a relationship with one of our agents – we can even aid you in your search for rentals.